The Stuff We're Made Of, Part 2: Just Keep Walking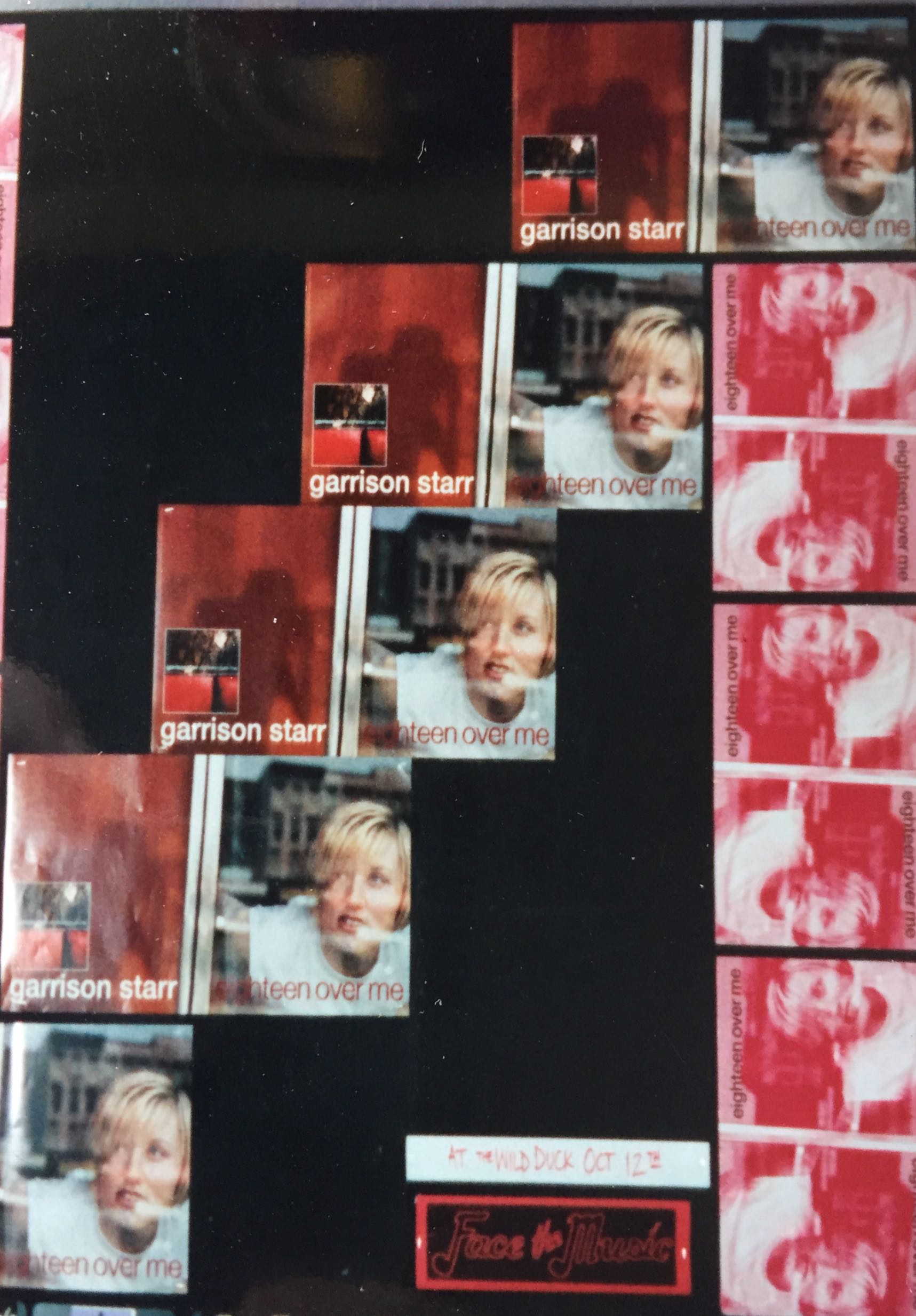 After my brief stint in college, I moved to Memphis and began focusing on my music career. Playing music is all I've ever wanted to do anyway.
I rented a studio apartment and found a job at Ardent Records, a classic and revered recording studio in midtown. I had heard of Ardent through my college friends I played and toured with. Some of their favorite artists and bands had history with Ardent, namely Alex Chilton and Big Star. I felt like I was in my element there- everybody shared a love for music and for the industry. Plus, we were all a bunch of misfits.
I was writing and playing shows every chance I got. I put a band together and continued touring on the road, and I was also developing a fan base in Memphis and getting some real attention as a new artist and songwriter on the scene.
My first manager was a guy I met at Ole Miss through my music friends. He managed a really cool record store on the Oxford town square, and as such, was constantly chatting up sales guys from all the labels who would call about the artists they were working. (When actual records and record stores existed! Yes, that was once a thing.) I had recorded an EP called "Stupid Girl," and it had the first version of my song "Superhero" on it. That was the song that changed my life.
He had played "Superhero" for a guy named Ray who worked in sales at Geffen Records at the time, and Ray freaked out about it after one listen. He ended up passing the song around to everybody at the label, and the next thing you know, Ray was front and center for a show I was playing on the Highland strip. A few days after that show, I got a call from my manager at work asking me if I was sitting down. Of course I was sitting down, and the next thing I knew, we were on a plane to LA together to meet with the head of A&R and the president of Geffen. I officially signed my first record deal shortly thereafter. It was 1996, and I was 21.
My life became kind of surreal at that point. I had left college, put my focus on music and gotten a record deal. Just like that. Though I had been touring and playing out since I was a teenager, I hadn't really had to struggle all that much to be recognized. I hesitate to say I hadn't payed any dues at that point, but I was very fortunate in how quickly things came together for me with respect to getting signed. It was all happening.
I can't remember how I came to be at the Women's World Cup game in the late 90's- the one at the rose bowl where Brandy Chastain took her shirt off- but when I got home from the game, a friend of mine had recorded the opening of the telecast where they had used about 90 seconds of "Superhero" for in the intro! There was a montage of the girls running out and scoring goals and kicking ass to the chorus of my song- it was empowering! Through my contacts at the record label, I ended up getting to meet the team on David Letterman on a trip to NYC. I have an official jersey that Tiffany Milbrett gave me with her name on it hanging in my closet.
The first major tour I was on was opening solo acoustic for The Sundays for three weeks of sold out shows across the U.S. and Canada. They're an English band who had a hit called "Here's Where The Story Ends" in the 90's. Actually, now that I think about it, they sounded a lot like Sixpence None The Richer. We were playing clubs like the Fillmore in San Francisco and old theaters like The State Theater in Seattle. You could've heard a pin drop every night in every room. After having played Lilith Fair solo acoustic, I was getting my head around performing by myself again, but it was still nerve-racking to play in front of that many people hanging on every word. It was a whole new level. I remember one night at the Fillmore, I decided to play a new song, and I started it 3 times with encouragement from the crowd before I had to just give up. I was so nervous that I couldn't remember all the words!! The love and support I was getting from the audience was filling me up in a way that felt so validating. People were responding to my songs and my stories with what felt like genuine affection. I was still in a very raw and volatile place, and that was resonating with crowds and listeners. Being onstage felt like the safest place I could be, especially considering the circumstances I had just come out of. I could be whoever I wanted to be up there, for better or worse.
After a couple years after signing my deal, Geffen dissolved into Interscope Records and I ended up leaving the label after jumping through lots of hoops and running in a ton of circles. I never felt like anybody at Interscope really understood me, and I wasn't into having to prove myself to anyone at that point. In those days I took everything personally, and I was very defensive. The rug had literally been pulled out from under me, and I was having an identity crisis. I was too much of a boy and not enough of a girl. I felt insecure everywhere I went, assuming people were looking at me and judging me. I still didn't have anybody to talk to who really understood what I was going through and what I had been through with the church. I always had a stylist for photo shoots and stuff, but they wanted to dress me up in clothes I would never wear in public, and I didn't know how to vocalize my own vision. I couldn't give myself permission to explore and define who I wanted to be because I had always been told who to be. Obviously a lot of my issues were tied up in the trauma and confusion of being ostracized by the Christian community, and so much of the hurt and anger I was feeling was totally unresolved. The demise of the Geffen I knew would be the first of many heartbreaks in my career, and I could never have expected how painful each one would be. I never cared about being famous; I've just always had a lot to say. Unfortunately, I equated my popularity in music with my worth as a person. And as my friend Jay Nash would say, "That's a hard lesson to learn."
I need to condense a bunch of time into few words here. Basically, I could sum up the next 15 years in the timeline by saying I continued to sign more record deals and tour most of the year. I opened for Steve Earle, Mary Chapin Carpenter, Shawn Colvin, John Doe, Melissa Etheridge, The Indigo Girls- most of my heroes, actually. I've had so many experiences in my career that I know are once-in-a lifetime opportunities. Still, somehow, nothing has ever really been good enough.
I lost my voice chasing after acceptance. I know now that I was ultimately looking for redemption. I just wanted to know that I was good enough, and there was a giant hole inside my heart that needed filling. The only problem with that, I figured out, is that it's a lot of work to fill up that hole day after day. Sometimes the only way to move forward is to just start walking. I believe I reached a point in my life where the anger I was holding on to was working against me. I guess you could say I hit a bottom. As an old friend in Nashville used to tell me, "It's an inside job, G. Sometimes you just gotta sit in the soup."
Over the last several years, I've pulled back on my touring career, shifting my focus from the race of the touring life to writing songs every day with different producers and artists. I produced and co-wrote a record with Margaret Cho that was nominated for a Grammy this year, which was amazing, and I've had tons of songs placed in television and films. I never used to write with other people. I think I felt threatened by it. I had a good friend tell me one time that she looked forward to the day when I got out of my own way. Oh, how right she was, and what a process that would turn out to be!! I have learned more than I ever could have imagined from working with others. I've learned to trust again, to listen, to appreciate somebody else's strengths without having to make myself feel weaker. When I was younger, I felt entitled to the opportunities that came my way. I was so focused on getting to the next thing that I missed some of the joys for the drama of the struggle. Struggle is good; it teaches us a lot, if we let it. But as my beautiful partner Renè has taught me, we can't dwell too long there. See, I became so obsessed with what I didn't have- I wasn't straight enough, girly enough, cool enough, sexy enough, rich enough, successful enough- you name it- I got so sidetracked with that narrative that I became a victim. I wasted a lot of time being bitter, in a feedback loop for many years, blaming any and everybody for all the ways things hadn't panned out. I told myself I didn't need to be an artist. I had told myself that part of my life was over.
A year ago, I got a call out of the blue from my good friend Joe Purdy, asking me to open for him on a tour for his new record. I remember crying when I hung up the phone. Joe had made me feel relevant again. He could've picked anybody, and he picked me. I can't explain it to you- you might think that's stupid, but he gave me a great gift that day that I will always be grateful for. I had been working hard to distance myself from Garrison Starr the artist, believing that nobody wanted to hear what she has to say. The truth is I had forgotten that I don't need anybody's permission to make music, and I certainly can't exist trying to please everybody in every way. So much of being an artist is the expression itself, at least for me. It's being a part of something greater than myself. I am a conduit on my best day for a bigger message crying to be heard, and unless I am inspired, I can't inspire others. My job is to keep my head down and do my work, and if it happens to be something people like, that's icing on the cake. I see the artist life as a higher calling. It's very much a blessing and a curse.
In my life today, I am grateful. I discipline myself to focus on all the blessings, and I am painfully aware of the second chances I've been given. Somebody out there really wants me to make good on all the lessons I've had to learn the hard way, and I intend to make them proud. I know now that the lies I was told growing up are somebody else's baggage. That's somebody else's cross to bear. All I have to do now is be me.